Description
3ml CHG skin prep swab stick SS-708-2C7I
Product Name

3ml CHG Skin Prep swab stick—SS-708-2C7I

Patent No. In China

4261567

Compliance

CDC,INS,SHEA,IDSA,APIC,

Certificate

FDA,CE,EU,Free Sale,Export license based on (GMP)

Application

Patient preoperative large-area skin preparation before injection &operation,insertions or surgery to present SSI & HAI

Foam tip width

15 mm(0.591″)

Foam tip Thickness

8.8 mm(0.346″)

Foam tip Length

25 mm(0.984″)

Handle width

6.6 mm (0.260″)

Handle Thickness

3.2 mm(0.126″)

Handle length

105.5 mm (4.154″)

Total length

105.5 mm (4.154″)

Sterility

Sterile

Storage

Room Temperature (15-30℃)

Shelf life

2 years

Pack

Individual peel pouch, 50pcs/Box, 20boxs/Case,                 case size: 36*21.5*55.5cm,G/W:7.8kg

OEM/ODM

Customization of design,color, logo,pack,swab shape & break point

Capacity

960,000 pcs/day

MOQ

10,000 pcs

Lead Time

12-20 days from deposit

Shipping

By sea,by air, by Express DHL,Fedex,UPS or TNT

Payment

L/C, T/T, Money Gram,Escow, Paypal, Western Union,DDP,DAP
Why CHGPrep Swab Applicator ?

CHG is a fast-acting, broad spectrum, persistent antiseptic that significantly reduces the number of microorganisms on intact skin.Together, the formulation and applicator provide a proven system that supports infection control guidelines for helping to reduce the incidence of BSIs and SSIs. It is thought by many clinicians to be the most exciting breakthrough in antiseptics since povidone iodine. Chlorhexidine Gluconate the most effective antiseptic skin prep, is now available in an innovative new swab stick technology. The design of the new CHGPrep swab stick provides a significant improvement in performance over traditional swab sticks. CHG maintains a persistent antimicrobial function by disrupting the cell membrane and precipitating their contents. IPA quickly destroys micro-organisms by denaturing cell proteins, giving significant defense against broad-spectrum micro-organisms and rapid bactericidal action and keeps fighting bacteria for at least 48 hours. (Methicillin-resistant staph aureus [MRSA] and Vancomycin-Resistant Enterococci (VRE), Carbapenem-resistant enterobacteriaceae (CRE) are the three infamous multi-drug resistant [MDRO's] )
Design:
Rectangular or Circular medical grade foam tip Swab Stick is wash, dry and impregnated with CHG antiseptic solution. It is individually pack and pouch in our Class 100 Cleanroom GMP factory
The CHGPrep solution contains 2% chlorhexidine gluconate and 70%isopropyl alcohol. The solution is clear to provide vascular visualization. Both Swab Sticks provide approximately 4.0″ x 4.0″ coverage
area.

Application:
Pre-injection & Preoperative Procedure;
Peripheral IV insertions and restarts;
Dialysis procedures/Routine venipunctures;
Percutaneous device insertions/Simple biopsies;
Vascular Access Insertion & Maintenance;
Routine catheter maintenance/Arterial blood gas collections;
Surgical site cleansing after suturing;
Arterial venous fistulas (AVF)/arterial venous graphs (AVG).
•  CHG Swabstick Specification 
Skin Antiseptic CHG Swab is Impregnated with 2%  Chlorexidine Gluconate and 70% Isopropyl Alcohol .
Skin preoprative antiseptic CHG Swab helps to reduce BSIs , SSIs and catheter-related infections , efficiently killing  a broad spectrum bacteria .
Chlorhexidine Gluconate (CHG) was first used as a handwashing agent for healthcare workers . Since that time , aqueous CHG agentshave been widely used as an effective antiseptic handwashing and surgical scrub .
The Design Snap swab—–Medical Solution: 2% Chlorhexidine Gluconate and 70 % isopropyl alcohol , which is used to cleanse the skin . They contain 70% Isopropyl alcohol and 2% Chlorhexidine and are suitable for professional and hospital use .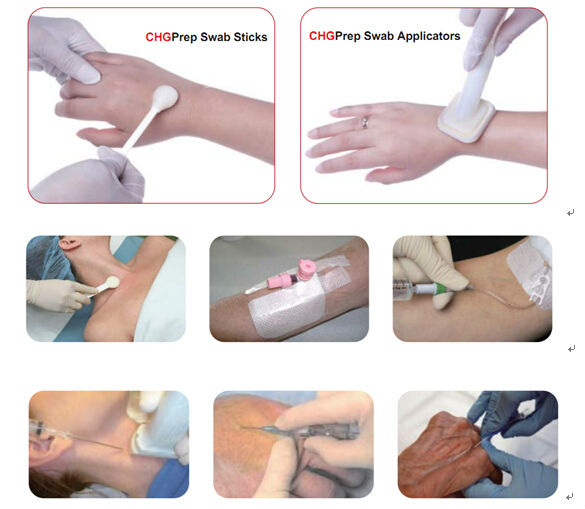 •  CHG Swabstick Feature 
—    For preparation of the skin prior to injection
—    Produce in ISO class 10-100
—    ETO sterilization
—    New Design , Snap swab
—    OEM products
•  CHG Swabstick Advanages 
—    latex-free
—   Two-year shelf life
—    Does not contain DEHP
—    More effective at reducing skin bacteria than antiseptics
—    Active in protein-rich biomaterials
—    Keeps fighting bacteria for at least 48 hours
• CHG Swabstick Product Information 
S/N

Product Description

Part Number

Box Packing

Carton Packing

1

Large Rectangular Foam Tip with 2% w/v CHG + 70% v/v IPA

CY-SS-707-2C7I

50 Pcs/Box

20 Boxes/Carton

2

Large Rectangular Foam Tip with 0.5% w/v CHG + 70% v/v IPA

CY-SS-707-0.5C7I

50

Pcs

/Box

20 Boxes/Carton

3

Large Rectangular Foam Tip with 3.15% w/v CHG + 70% v/v IPA

CY-SS-707-3.5C7I

50 Pcs/Box

20 Boxes/Carton

4

Large Rectangular Foam Tip with 4% w/v CHG + 70% v/v IPA

CY-SS-707-4C7I

50 Pcs/Box

20 Boxes/Carton

5

Large Circular Foam Tip with

2% w/v CHG + 70% v/v IPA

CY-SS-708-2C7I

50 Pcs/Box

20 Boxes/Carton

6

Large Circular Foam Tip with

0.5% w/v CHG + 70% v/v IPA

CY-SS-708-0.5C7I

50 Pcs/Box

20 Boxes/Carton

7

Large Circular Foam Tip with

3.15% w/v CHG + 70% v/v IPA

CY-SS-708-3.5C7I

50 Pcs/Box

20 Boxes/Carton

8

Large Circular Foam Tip with

4% w/v CHG + 70% v/v IPA

CY-SS-708-4C7I

50 Pcs/Box

20 Boxes/Carton
• Optional Antiseptic Solution Composition 
1) 0.5% W/V CHG (Chlorhexidine Gluconate) + 70% V/V IPA (Isopropyl Alcohol)
2) 2% W/V CHG (Chlorhexidine Gluconate) + 70% V/V IPA (Isopropyl Alcohol)
3) 3.75% W/V CHG (Chlorhexidine Gluconate) + 70% V/V IPA (Isopropy Alcohol)
4) 4.0% W/V CHG (Chlorhexidine Gluconate) + 70% V/V IPA (Isopropy Alcohol)
5) Povidone Iodine USP 10% W/V (Equivalent to 1% Titratable Iodine) 
• Use on Patient Skin Antisepsis Preparation for The Following Application 
1. Pre-injection & Preoperative Procedure
2. Peripheral IV insertions and restarts
3. Dialysis procedures
4. Routine venipunctures
5. Percutaneous device insertions
6. Simple biopsies
7. Vascular Access Insertion & Maintenance
8. Routine catheter maintenance
9. Arterial blood gas collections
10. Surgical site cleansing after suturing
11. Arterial venous fistulas (AVF)/arterial venous graphs (AVG)