What Scenarios Can Flocked Swabs be Used in?
Flocked Swab is a special type of swab used to collect samples and for a variety of applications. Its main feature is a fine layer of fibers covering the surface, which is usually used in clinical, laboratory, medical and biological applications. Flocked swabs usually consist of a plastic or wood stem and a swab head. The swab head is covered with a layer of delicate fibers, which may be nylon, polyester, or other fibrous materials. These fibers are implanted vertically into the swab head, creating a uniform, dense layer of lint, which is a high-performance tool used in a variety of applications.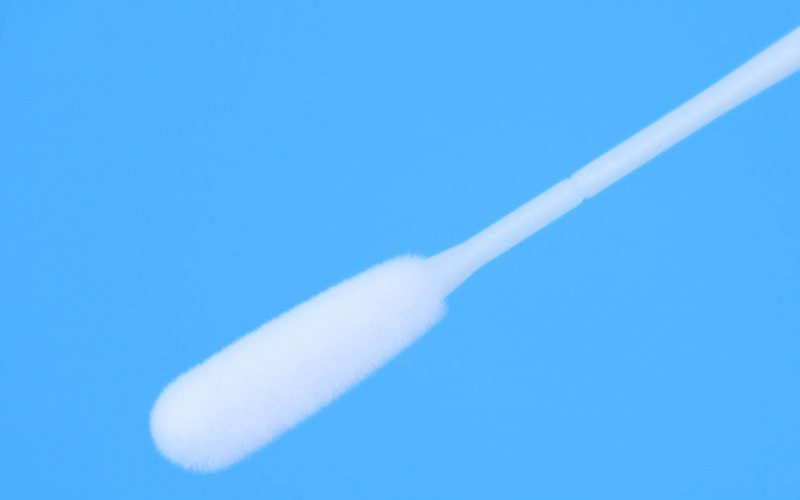 Medical Sampling
Flocked swabs are widely used in the medical field for the collection of clinical samples, such as cells or secretions from the mouth, nose, throat, conjunctiva and other areas.These samples can be used for disease diagnosis, infection detection, pathogen analysis and genetic testing.
Clinical Laboratory
In clinical laboratories, flocked swabs are used to collect and process biological samples such as blood, saliva, urine, etc., in order to perform various experiments, such as biochemical analyses, cell cultures, and DNA sequencing. Its adsorptive properties and accuracy make it ideal for researchers.
Pathogen Surveillance
Flocked swabs can be used to collect samples of pathogens, such as bacteria, viruses, fungi, etc., that may be present on environmental surfaces or equipment. This helps to monitor and control the spread of infections, for example in hospitals or laboratories.
DNA Sampling
Flocked swabs can be used to collect DNA samples for molecular biology studies such as PCR, sequencing, genetic analysis, etc. The swabs can be used to collect DNA samples from a variety of surfaces. Their high adsorptive properties ensure efficient DNA capture.
Cosmetic and beauty applications
Flocking swabs are commonly used for cosmetic applications such as makeup removal, cosmetic application and application of skin care products. Its soft surface is suitable for use on the face and sensitive areas, while effectively removing cosmetic residues.
Food and Beverage Industry
In the food and beverage industry, flocked swabs are used for sampling to detect contaminants or microorganisms in food or beverages. This helps to ensure the quality and safety of the product.
Environmental monitoring
Flocking swabs can also be used for environmental monitoring, such as taking water samples, soil samples or samples from contaminated surfaces. This helps assess the level of contamination in the environment and monitor the health of ecosystems.
Personalized Medicine and Genetic Research
Flocked swabs also play an important role in personalized medicine and genetic research. They are used to collect DNA samples to help researchers understand genetic information and develop personalized medical treatments and gene therapy strategies.
In summary, flocked swabs are a versatile tool for a variety of scientific, medical, biological and environmental applications. Their high adsorption, precision and flexibility make them ideal for many professional and everyday tasks.
"HCY, Health care for you" is our forever mission. We dedicate to offering safe & reliable products and medical services with our global creditable partners. HCY has already supplied to WHO, MAYO clinic, MGI, DDC, Yale University, Qorvo, Quanterix, Thomas Scientific, SD biosensor, Cardinal Health, Cleveland Clinic, Mars Petcare & LumiraDx, etc. in the past years.