How accurate are saliva swab DNA tests?
How accurate are saliva swab DNA tests?
DNA tests have soared in popularity in recent years.
Whether you want to confirm paternity, see where your genes originate from or you want to optimize your workout. We're taking a look at the accuracy of a direct-to-consumer saliva swab DNA test.
You've decided you want to use a DNA test to better understand your body and optimize your training. But, before you take the leap and buy your home DNA test kit, you have concerns.
While most of the feedback and research have proved positive, we're here to shed some more light on the matter and help you make an informed decision.
How does an at-home DNA tests work?
Home DNA tests have been around for a good few years now.
You're able to purchase them online and through selected retailers.
But, it is only recently, with the rise of ancestry testing that the market for at-home DNA tests has expanded as dramatically as it has.
An at-home DNA test works the same way any DNA test works.
The only part of the test that takes place at home is when you collect your sample.
This is done using a mouth swab to collect saliva and epithelial cells from the inside of your mouth.
You will still need to send your sample off to a laboratory to be tested.
Are at-home DNA tests accurate?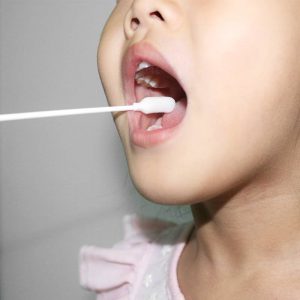 Yes, at-home DNA tests are accurate.
The only time you would experience an error would be if your genetic sample is compromised (for example, you ate a meal before taking the swab) or the laboratory isn't of the highest quality.
This is why it's important to choose a reputable DNA testing supplier.
DNA Fit pioneered the personal genetics code of practice, providing the highest evidence threshold in the industry.
Every result in our reports is built from a minimum of three peer-reviewed research papers.
We only include genes that have repeatedly shown an effect on various aspects of health, fitness or nutrition.
This means that there are real-life lifestyle changes you can make based on which gene variation you carry.
We are certified as ISO 27001, after undergoing rigorous internal and external processes, in order to identify risks, assess all of our systems of control and increase our reliability and security in so far that we adhere to the international standards of data security in order to ensure that our customers and business partners can trust us.
What can you do to ensure your DNA tests results are accurate?
To ensure that your DNAFit test results are accurate you will need to follow the step by step instructions on the back of the box.
Before you begin, read the instructions carefully:
Before you swab, make sure you haven't eaten or drank anything
– the optimal time to take the test is first thing in the morning before you've brushed your teeth and had that first cup of tea of the day.
Open your hermetically sealed mouth swab, it's always best to do this right before you're going to take the test, so it's not compromised.
Once you have the swab open, open your mouth and gently rub the tip (it'll look like a cotton bud, only larger) gently against your cheek. Try not to rub too hard as the important piece of the sample is the saliva.
Making sure not to comprise your swab, place it in the plastic container provided.
Making sure you snap off the stick at the required point.
Fill in our attached form, seal and sign the accompanying envelop and send it to our laboratory for examination!
Wait patiently for your test results. These should only take 10 to 14 working days from the time the laboratory receives your sample.
How accurate is a mouth swab test compared to other DNA collection methods?
Many people question the accuracy of a saliva swab because it isn't invasive.
However, you can have peace of mind knowing a mouth swab test is just as accurate as any other DNA test collection method. And, unlike the finger prick or blood test, it certainly doesn't hurt at all.
If you follow the instructions, whether you're building a cupboard from IKEA, following a map or taking a DNA test, the results will be accurate.
We must remember that a DNA test would only not be accurate if your test results were compromised or if you didn't follow the instructions correctly.
When taking a test like this, the cost is an important factor, so always do your research.
Often you aren't only paying for the test kit. You will also need to pay for the lab to analyze your results. If the test you have chosen isn't already linked with a laboratory, choose a reputable supplier with an excellent lab.
Each one of the laboratories we use is regularly spot-checked to ensure that your sample is tested correctly and your results are 100%
Adhering to the principle of "first-class products, first-class service", Huachenyang (Shenzhen) Technology Co., Ltd. takes product quality as the foundation of enterprise development, specializes in the production of flocking swabs, throat swabs, oral swabs, nasal swabs, cervical swabs, sponge swabs, virus sampling tubes, virus preservation liquid, etc.
With more than 14 years of manufacturing experience in the field of medical consumables, HCY organizes production and manages sales in strict accordance with ISO9001 and ISO13485 and has certain advantages in the industry.