Automatic Nucleic Acid Extractor  (Throughput-96)
Item No. : CY-NAAE-2106 Nucleic Acid Extraction System
HCY Automatic nucleic acid extraction instrument applying simple, fast, high throughput and cost-effective magnetic bead-based technique automatically streamline the tasks of extraction and rapid isolation of nucleic acids from various types sample, especially efficient in a detect pandemic infection on citizens in a short time.
The System enables the parallel processing of up to 1-96 samples per run. With the pre-programmed protocols and magnetic bead-based reagent cartridges, the system provides consistent and stable nucleic acid purification for every busy laboratory.
Certifications: FDA/NMPA/RoHS
HCY Automatic Nucleic Acid Extraction System can be used in combination with viral DNA/RNA extraction reagents to enable nucleic acid extraction in a rapid, efficient and stable manner for subsequent clinical molecular diagnosis. The entire workflow can be executed in a biosafety cabinet to protect operators from potential hazards.
Product Description
| | |
| --- | --- |
| Product Name | Automatic Nucleic Acid Extractor |
| Item No. | CY-NAAE-2106 |
| Dimension (mm) | 600(L) × 420(W) × 500(H) |
| Certifications | FDA / NMPA / RoHS |
| Processing Volume | 20-400ul |
| Extraction Throughput | 1-96, flexible |
| Sample Types | cultured cells/tissues/buccal swabs/blood |
| Well Plate | 96 deep well plate (V bottom) |
| Consumables | 8-strip tip comb |
| Nucleic acid extraction time | 0~30 minutes |
| Heating temperature adjustable | From room temperature to 115°C/240°F |
| Temperature control precision | ±0.1℃ |
| Heating range | Room temperature +5℃~125℃ |
| Reagent type | Magnetic bead-based, open-source reagents |
| Nucleic acid extraction purity | A260/A280=1.6~1.9 |
| Inter-well purification variation | CV<3% |
| Magnetic beads recovery rate | ≥90% |
| Touch screen size | A 7-inch touchable color screen |
| Disinfection/decontamination method | UV lamp, 96-well prepacked plate and disposable tip |
| Input power | AC 100-240V, 3.5-1.8A, 50/60Hz |
| Product weight | 29±1k |
Automatic Nucleic Acid Extractor
Benefits of the Automatic Nucleic Acid Extractor
Decrease reagent cost over 83%
When sample quantity <16 pcs per run, only use 1 pc prefilled 96 Kit, can execute the nucleic acid extraction.
2.Flexible configuration of prefilled 96 Kit
Can adjust the reagent type & position in the 96 well plate, to match different extractor
Dismountable magnetic rod
When sample quantity per run<16pcs, or even <8 pcs, can put only 1 pc prefilled 96 Kit, and hand teardown the some magnetic rods. Then the same prefilled 96 Kit can be used in next extraction process. save much reagent cost.
4.High recovery of magnetic beads
After magnetic beads are absorbed on the head of the magnetic rod, the magnetic rod can be be lifted higher
0.1-0.2mm, for higher recovery of magnetic beads ensures high yield of nucleic acid.
New strong magnetic rod
With the newly designed strong magnetic rod, the magnetic beads are absorbed on the head of the magnetic rod, so as to ensure that the elution buffer can still cover all the magnetic beads even with a small elution volume.
6.Accurate heating
4 heating modules in each Unit, precise heating the stipulated well,avoid heating the adjacent
Precise movement of magnetic Rod
The magnetic rod is driven by Double-nut ball screw, to ensure that the rod runs smoothly, high precision and longer service life of the rod.
large magnetic rod vibration amplitude.
The driving device is equipped with a high-performance stepping motor, with large magnetic rod vibration amplitude. The vibration amplitude can be set according to the volume of the solution to ensure good and even blending effect. Each moving component is protected by the limit position protection mechanism to avoid instrument failure.
Consumables for the extraction system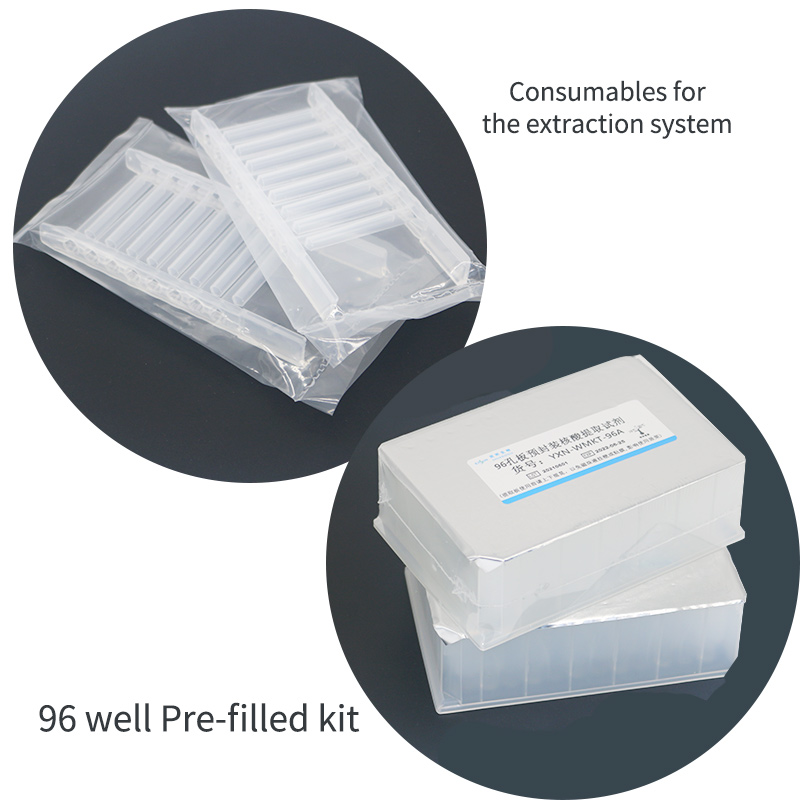 96-well prepacked plate and
8-well regent tube
Magnetic rod sleeve
Working Principle

Operation Procedures


Choose programme,
sample qty & type
Transfer sample liquid
to pre-filled plates
Click "GO",
start automatic extraction
Other Advantages of the Extractor
Easy Operation, very simple handling for lab staff on sample processing
Pre-setting software, Lab staff just click the icon on the led screen
Visual extraction progress
Short processing time: 18 minutes
User-friendly Operation Stop at any time when emergency or power off, no affect final extraction yield.
Specially designed a heating block for 96-well plates, ensuring even heating during the experiment.
Safe UV lamp, 96-well prepacked plate, and disposable tip, avoiding cross-contamination by minimizing contact with samples.
Extracted nucleic acids can be used for molecular testing with a variety of techniques such as PCR, qPCR, MLPA, NGS laboratory preparation, and microarray.
Note: For more specific usage, you need to refer to the instruction manual and our video tutorials.
Adhering to the principle of "first-class products, first-class service", Huachenyang (Shenzhen) Technology Co., Ltd. takes product quality as the foundation of enterprise development, specializes in the production of flocking swabs, throat swabs, oral swabs, nasal swabs, cervical swabs, sponge swabs, virus sampling tubes, virus preservation liquid, etc.
With more than 14 years of manufacturing experience in the field of medical consumables, HCY organizes production and manages sales in strict accordance with ISO9001 and ISO13485 and has certain advantages in the industry.
Any questions about this product? Send us a message!
We will reply to you via email in 24 hours