Disposable Polyurethane Foam Swab (Sponge Swab): 152mm
Item NO: iClean® CY-90001-FS (No Breakpoint)
iClean® foam swabs are ideal for collecting samples and rapid elution of the specimens. It instantly releases the specimen into the transport medium, which is well adopted in the field of molecular genetics, forensics, clinical laboratories sectors, etc.
The medical-grade foam is welded to the tip of the handle using ultrasonic waves, which do not contain adhesives and pollute the contacts.
Material: Polyurethane Foam & Polyurethane
Applications: Throat/Oropharyngeal/Blood DNA&RNA Sampling
Certifications: SGS/ISO9001/FDA/TGA
Product Description
| | |
| --- | --- |
| Product Name | Sterile Foam Swab |
| Item No. | iClean® CY-90001-FS |
| Factory System | GMP |
| Mini Tip Material | Polyurethane Sponge |
| Handle Material | Polyurethane |
| Certifications | SGS/ISO9001/FDA/TGA |
| Swab Length | 152mm±0.5mm |
| Handle Diameter | 2.5mm±0.2mm |
| Swab Tip Length | 16mm±0.2mm |
| Swab Tip Diameter | 4.5mm±0.2mm |
| Breakpoint | No Breakpoint |
| Packing | Individual Sterile Package |
iClean® CY-90001-FS Foam Swab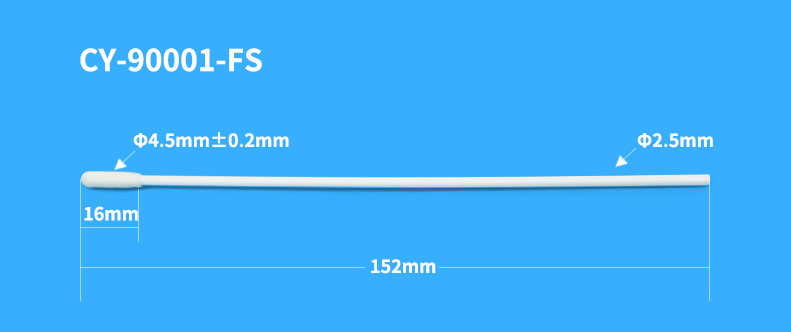 Features of Polyurethane Foam Swab
The fiber-free structure can effectively prevent static electricity and avoid the generation of dust particles.
And the multiple particles on the swab can capture the collected objects and strongly absorb and lock the solvent.
Because foam is soft and non-abrasive, it won't scratch even the most sensitive surfaces.
It can also be used to clean all kinds of precision instruments, including medical instruments, lenses, printer nozzle solutions, and chips, etc.
Adhering to the principle of "first-class products, first-class service", Huachenyang (Shenzhen) Technology Co., Ltd. takes product quality as the foundation of enterprise development, specializes in the production of flocking swabs, throat swabs, oral swabs, nasal swabs, cervical swabs, sponge swabs, virus sampling tubes, virus preservation liquid, etc.
With more than 14 years of manufacturing experience in the field of medical consumables, HCY organizes production and manages sales in strict accordance with ISO9001 and ISO13485 and has certain advantages in the industry.
Any questions about this product? Send us a message!
We will reply to you via email in 24 hours