Saliva DNA Collection Kit, Saliva Collector for RNA Samples
Item No: iClean® CY-98000C
Saliva Collector is an all-in-one system for saliva collection, transportation, and storage of DNA. It is a user-friendly product that allows people to collect DNA/RNA samples at home.
Included Items:
Saliva Funnel
Collection Tube – 5ml
Saliva Preservatives Tube – 5ml
User Manual
The kit collects saliva samples secreted from the oral cavity through the collection tube, and evenly mixes the collected saliva with the transport medium, ensuring the integrity of the DNA/RNA in the saliva sample.
Description of Saliva DNA/RNA Collection Kit
| | |
| --- | --- |
| Product Name | Saliva DNA/RNA Collection Kit |
| Product Code | iClean® CY-98000C |
| Factory System | GMP |
| Certifications | CE/FDA/ISO/TGA |
| Sterilization | EO |
| Tube Volume | 5mL |
| Preservatives Solution | 2mL |
| Shelf Life | 1 year |
| Services | OEM/ODM |
| Packing | Sterile Blister package |
Saliva DNA/RNA Collection Kit
Features of Saliva DNA/RNA Collection Kit
Non-invasive, painless, and easy to handle.
Ideal for children's saliva sample collection.
Samples are non-infectious and can be shipped safely.
Self-collection, no need for a trip to a testing center.
Medical staff are not exposed to the risk of infection.
Suitable for home or clinical sampling.
Collection tube specified to 95kPa for leak-proof mailing.
Assisted version for infants and elderly.
Suitable for SARS-CoV-2 sample collection.
The Unique funnel design prevents spillages or buffers flow back.
Instructions for Use of Saliva Collector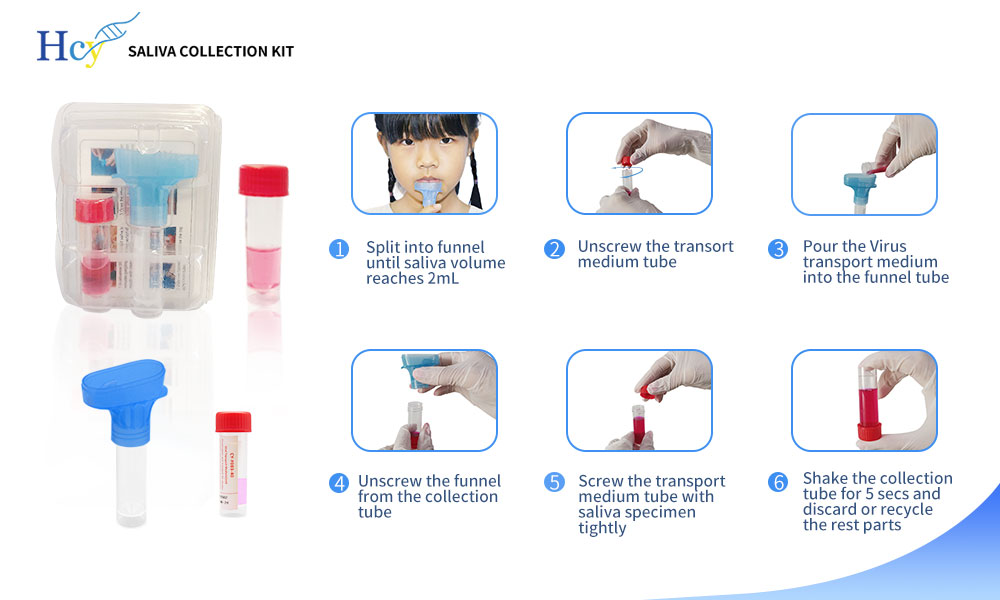 Sample Requirements
The composition of the collection funnel, collection tube and collection tube cap should be polypropylene material.
The preservation solution (transport medium) is sealed and leak-free.
Centrifuge tube and saliva collection port do not leak preservation solution (transport medium).
Adhering to the principle of "first-class products, first-class service", Huachenyang (Shenzhen) Technology Co., Ltd. takes product quality as the foundation of enterprise development, specializes in the production of flocking swabs, throat swabs, oral swabs, nasal swabs, cervical swabs, sponge swabs, virus sampling tubes, virus preservation liquid, etc.
With more than 14 years of manufacturing experience in the field of medical consumables, HCY organizes production and manages sales in strict accordance with ISO9001 and ISO13485 and has certain advantages in the industry.
Any questions about this product? Send us a message!
We will reply to you via email in 24 hours
1190

Home DNA Collection Kit for home self-collection of maxillary DNA specimens, combining collection, stable transport and storage.

View details

912

Sterilized cotton sliced Blood sampling tools Blood collection cards Hemostatic cotton swabs

View details

728

Self Collection DNA Test Kit Application:PCR, SNP, Genotyping, Microarrays, Next-generation Sequencing and whole genome Sequencing etc.

View details