Huachenyang Won Section 337 Investigation,the Intellectual-property Lawsuit in US
On October 28, The US International Trade Commission (USITC) ruled that Huachenyang (Shenzhen) Technology Co., Ltd did not infringe the certain flocked swab patent rights of Copan Italia S.p.A of Brescia and Copan Industries, Inc.,.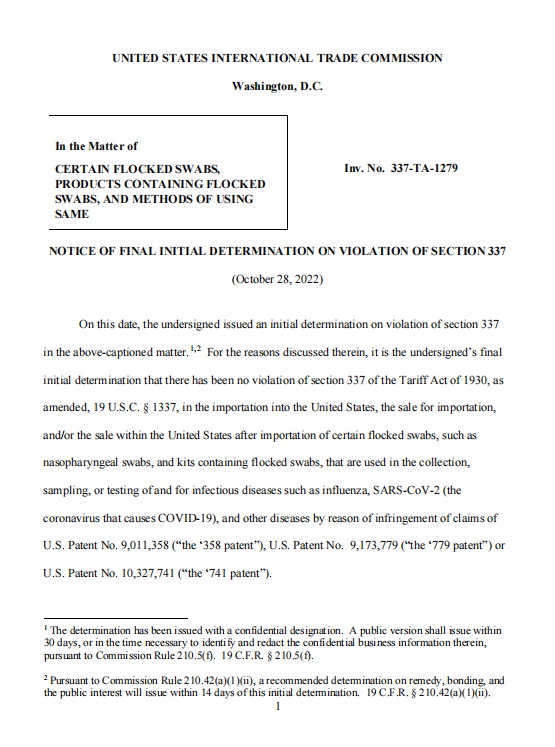 This victory is symbolic that Huachenyang are now eyeing on oversea markets and patenting abroad through strengthening their capabilities in independent innovation in order to improve their core competitiveness in the international market.
In compliance with the unfair practices of the U.S. Tariff Act of 1930 against imports, U.S. corporations have launched an investigation under Section 337 and imposed sanctions on foreign enterprises.
In all 337 investigations, a total of 558 Chinese enterprises were defendants, and 29 Chinese enterprises were judged to be non-infringing, with a probability of roughly 5.2%.
Copan asked the USITC to start the Section 337 investigation on Huachenyang and other 7 Chinese interprises for patent infringement on July 9, 2021. Huachenyang together with 4 other Chinese interprises decided to response to the lawsuit.
The business hired a team of attorneys to actively respond to the lawsuit, cope with the applicant's continual questionnaires, coordinate and arrange technical team to investigate the technical issues related to infringement. Collected a substantial amount of evidence regarding product development, production, and sales, to demonstrate that the product does not infringe the patent and it has sensible differences.
The victory in this response was not easy to come by, and the entire litigation lawyer fee was exorbitant. As well as a lot of effort and time were spent.
Huachenyang CEO, Mr. Gong said a enterprise must confront the challenges of globalization and uphold intellectual property rights if it wants to grow. Getting victorious in this section 337 investigation is crucial for Huachengyang, but it also shows how strong the industry are in R&D and international commerce.The establishment of the enterprise alliance, a robust framework for managing intellectual property, strong capabilities in technology research and development, and the direction of government policy were all factors in this success.
Adhering to the principle of "first-class products, first-class service", Huachenyang (Shenzhen) Technology Co., Ltd. takes product quality as the foundation of enterprise development, specializes in the production of flocking swabs, throat swabs, oral swabs, nasal swabs, cervical swabs, sponge swabs, virus sampling tubes, virus preservation liquid, etc.
With more than 14 years of manufacturing experience in the field of medical consumables, HCY organizes production and manages sales in strict accordance with ISO9001 and ISO13485 and has certain advantages in the industry.