CHG Swab, Antiseptic CHG Applicator, Chlorhexidine Gluconate Skin Prep
Antiseptic CHG Prep Swab: 3ml/6ml/10.5ml/26ml
CHG applicator is excellent at reducing skin bacteria.
Long-lasting activity, fast sterilization, no skin irritation
Remains active in protein-rich biomaterials.
No glass and do not require activation before use.
Eliminate the need for forceps, gauze swabs, bowls, and bottled solutions.
Fill Content:
2% w/v CHG + 70% v/v IPA Antiseptic Solution
Other Antiseptic Solution Composition (Customizable)
0.5% wƒv CHG ( ChIorhexidine GIuconate ) + 70% vƒv IPA (IsopropyI AIcohoI)
3.15% wƒv CHG ( ChIorhexidine GIuconate ) + 70% vƒv IPA (IsopropyI AIcohoI)
4.0% wƒv CHG ( ChIorhexidine GIuconate ) + 70% vƒv IPA (IsopropyI AIcohoI)
Povidone Iodine USP 10% wƒv (EquivaIent to 1% TitratabIe Iodine)
Specification of Antiseptic CHG Prep Swab
| Item No. | CHG Solution | Cover Area | Total Swab Length | Use |
| --- | --- | --- | --- | --- |
| SA-260-2C71 | 26 ml | 52mm*56mm (2.05″*2.20″) | 219mm (8.62″) | Press-down |
| SA-105-2C71 | 10.5 ml | 45mm*45mm (1.77″*1.77″) | 170mm (6.69″) | Press-down |
| SA-60-2C71 | 6 ml | Diameter: 40mm (1.57″) | / | Scerew-down |
| SA-30-2C71 | 3 ml | Diameter: 35mm (1.38″) | / | Scerew-down |
CHG swab packing: 50 appIicators/CTN
NOTE: The red solution makes it easy to distinguish the disinfected area, and all models can be configured with a colored disinfectant solution.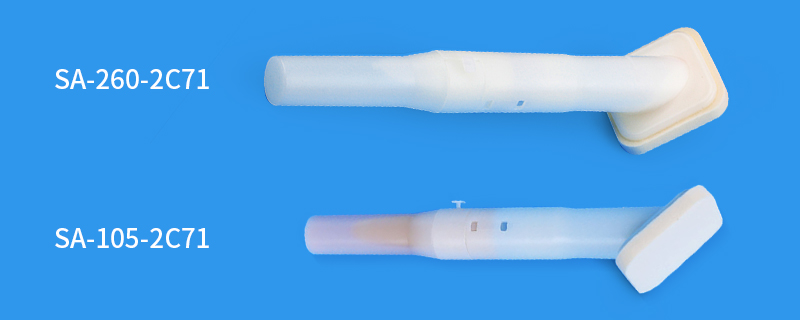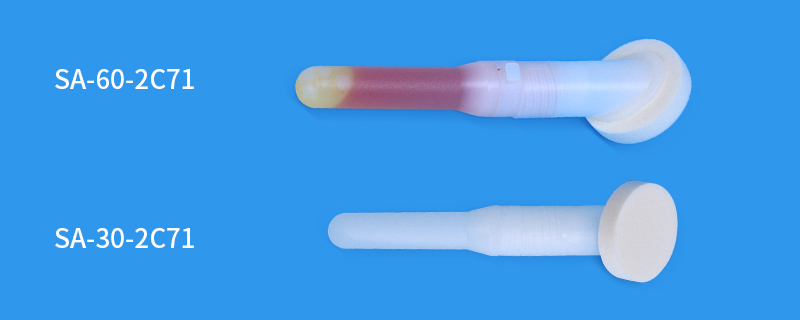 Features of Antiseptic CHG Prep Swab
Rapid-acting: Chlorhexidine holds better immediate antimicrobial activity.
Persistent: CHG Applicators keep antimicrobial activity for at least 48 hours.
Broad-spectrum: MRSA, VRE, CRE, Clostridium Difficile, and Acinetobacter.
Aseptic technique: The Applicators reduce the risk of direct hand-to-patient contact.
Active in protein-rich biomaterials: Remains active in the presence of blood and serum.
Friction scrub: Applicators promote gentle friction scrub to make CHG solution penetrate the first five layers of the stratum corneum where 80% of skin-dwelling microorganisms reside.
Instructions for Using CHG Swab
Peel the pouch to remove the handle, simply pull the ring collar to activate and release antiseptic solution, apply the foam tip on the insertion site.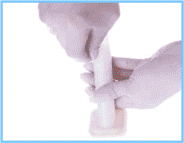 Step 1
Pull and remove the ring collar lock from the handle, do not touch the foam pad.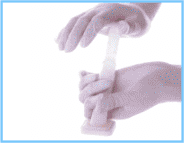 Step 2
Press down to activate and release the antiseptic solution to the foam pad.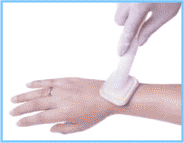 Step 3
Wet the treatment area with antiseptic, using gentle back-and-forth strokes.
Applications of Antiseptic CHG Swab
Pre-injection & Preoperative Procedure.
Peripheral lV insertions and restarts.
Dialysis procedures Routine venipunctures.
Percutaneous device insertions Simple biopsies.
Vascular Access Insertion & Maintenance.
Routine catheter maintenance Arterial blood gas collections.
surgical site cleansing after suturing.
Arterial venous fistulas (AVF)/arterial-venous graphs (AVG).
Adhering to the principle of "first-class products, first-class service", Huachenyang (Shenzhen) Technology Co., Ltd. takes product quality as the foundation of enterprise development, specializes in the production of flocking swabs, throat swabs, oral swabs, nasal swabs, cervical swabs, sponge swabs, virus sampling tubes, virus preservation liquid, etc.
With more than 14 years of manufacturing experience in the field of medical consumables, HCY organizes production and manages sales in strict accordance with ISO9001 and ISO13485 and has certain advantages in the industry.
You can request a quote or submit the order.
We will reply to you via email in 24 hours
2948

Antiseptic CHG Applicator has a rapid, broad-spectrum, and long-lasting effect on killing bacteria compared to traditional swabs

View details

3209

CHG swab still has bactericidal activity in blood, serum, and other protein-rich microorganisms.

View details

2076

Formulated with 2% chlorhexidine gluconate (CHG) and 70% isopropyl alcohol (IPA), CHG pretreatment products meet the FDA's stringent clinical requi...

View details