World's 1st Monkeypox Virus Micro-droplet Digital PCR Test Kit Received CE Mark
Huachenyang (Shenzhen) Tech Co., Ltd has recently overcome the related technology and launched the world's first monkeypox virus micro-droplet digital PCR test kit. This kit, together with the monkeypox virus antigen kit (colloidal gold) and monkeypox virus antibody test Kit (colloidal gold), received the EU CE mark on June 8, 2022, and is available in markets worldwide that recognize the EU CE mark.
Monkeypox Virus PCR Test Kit Receives EU CE Mark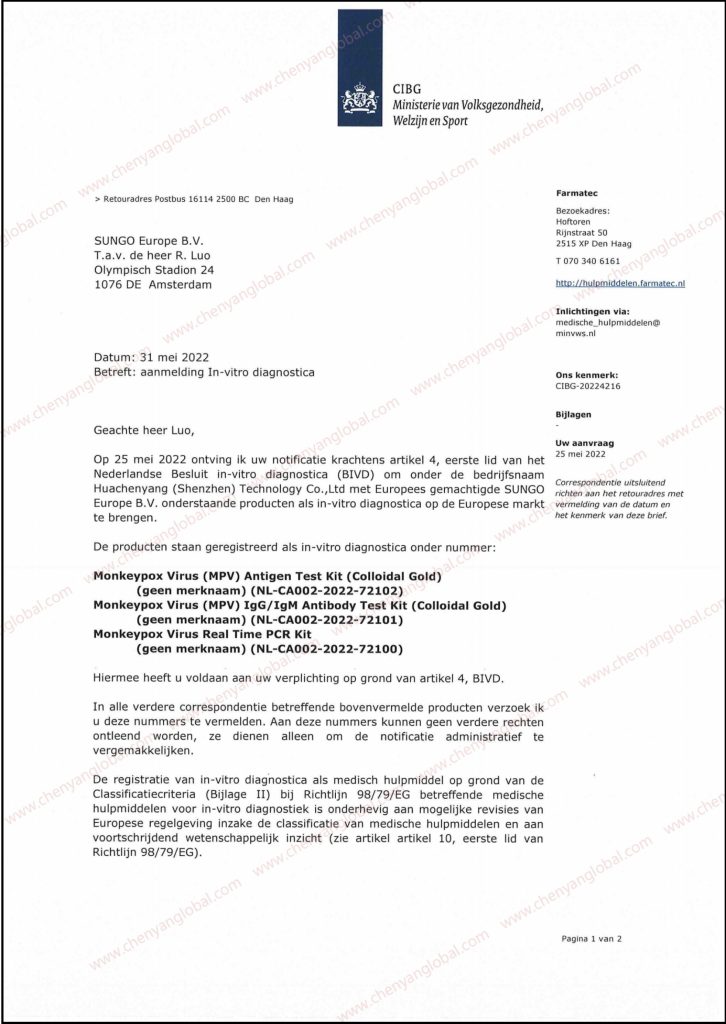 Monkeypox is a human-animal infectious disease caused by the monkeypox virus. The main clinical manifestations include high fever, headache, back pain, general malaise, cough, swollen lymph nodes, a rash similar to smallpox, and occasional abdominal pain.
According to WHO data on monkeypox cases, as of June 2nd, 27 non-monkeypox endemic countries and regions have reported 780 confirmed cases of monkeypox to the WHO, mainly in Europe and North America. Although the global public health risk level due to the monkeypox outbreak remains "moderate," WHO said the actual number of infections may be underestimated.
Advantages of Monkeypox Virus Micro-droplet Digital PCR Test Kit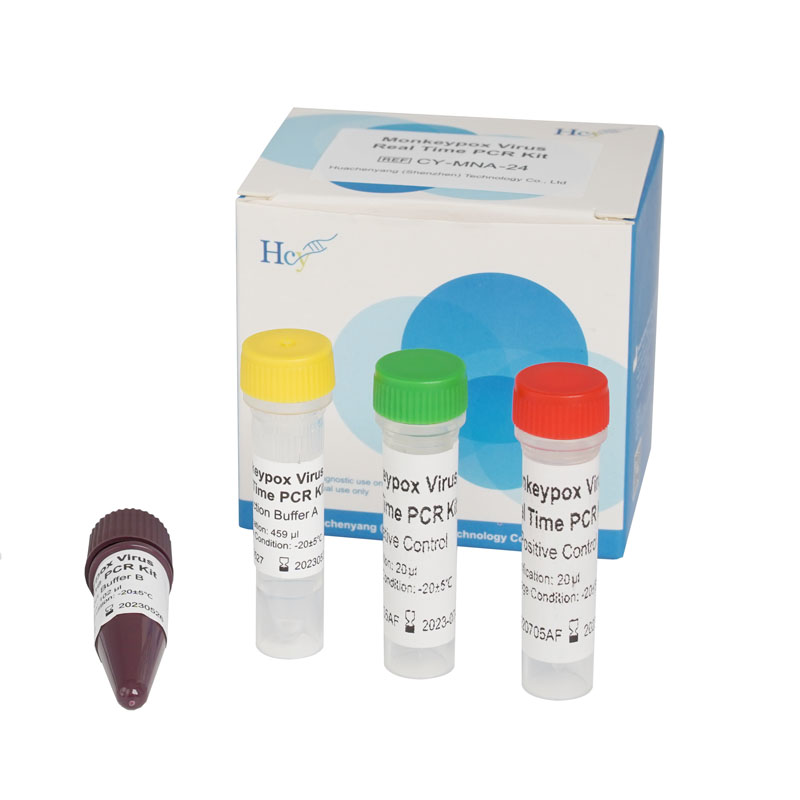 Micro-droplet digital PCR, as the latest PCR technology, has many advantages over traditional fluorescent quantitative PCR or ordinary PCR.
The specificity and sensitivity have been significantly improved.
The absolute quantification index can be obtained directly without relying on internal reference and standard curve.
The microreaction units are independent and closed to each other, avoiding mutual interference between PCR inhibitors and amplification products of different nucleic acid molecules, with higher accuracy and reproducibility.
Specimens: rash, scab, blister fluid, pustular fluid, whole blood
Detection time: 50 minutes
Digital PCR results of Monkeypox Virus Micro-droplet Digital PCR Test Kit

A minimum quantification limit of 5 copies/μl can be achieved with this monkeypox virus micro-droplet digital PCR test kit.
A: Quantification result of 5 copies/μl for surface positive samples.
B: Fluorescence photograph of droplet generation of positive samples with good droplet generation.
C: 1D scatter plot of the positive sample. The positive signal is well separated from the negative signal, and there is no rain-drop effect.
Fluorescent Quantitative PCR results of monkeypox virus PCR test kit.
The monkeypox virus micro-droplet digital PCR test kit is also compatible for use with common fluorescence quantitative PCR instruments, achieving a minimum quantification limit of 50 copies/μl on the ABI7500 fluorescence quantitative PCR.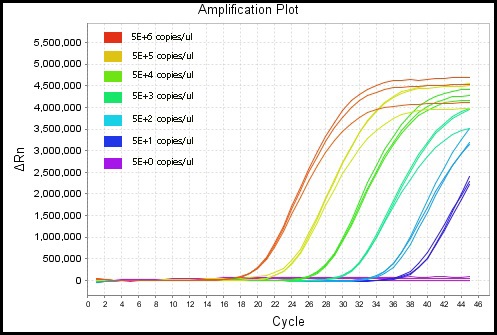 The launch of Huachenyang monkeypox virus test series products can effectively help countries carry out monkeypox virus testing and promote the rapid diagnosis, prevention, and control of monkeypox.
Huachenyang (Shenzhen) Tech Co., Ltd is an innovative enterprise integrating R&D, production, and sales with a complete industrial chain, focusing on R&D, production, and sales of medical consumables and medical equipment, with the competitive strength to develop in all aspects in domestic and international markets. This time, Huachenyang's products have been awarded CE certification by the European Union, which will further expand the application areas of the products and overseas markets.
"HCY, Health care for you" is our forever mission. We dedicate to offering safe & reliable products and medical services with our global creditable partners. HCY has already supplied to WHO, MAYO clinic, MGI, DDC, Yale University, Qorvo, Quanterix, Thomas Scientific, SD biosensor, Cardinal Health, Cleveland Clinic, Mars Petcare & LumiraDx, etc. in the past years.