Portable Oxygen Concentrator, Oxygen Machine for Home
Surface layer:
UPVC super weather-resistant resin, blocking solar UV rays, reducing thermal conductivity, ensuring product durability and chemical resistance.
Middle layer:
Special PVC structure and material, specially designed for heating and sound insulation.
Bottom layer:
Specially made to ensure good material toughness and increase rigidity while ensuring strength.
Portable Oxygen Concentrator using multiple filtering devices, effectively filter dust, hair, and impurities in the air, improve oxygen quality and cleans oxygen.
Portable Oxygen Concentrator
1. A Key Control
Without complicated operations, a One-click startup can be used in different scenarios.
2. Universal Wheel
Universal wheel+Built-in lock function, easy to move and prevent slippage during oxygen inhalation
3. Oxygen Inhalation Regularly
The oxygen inhalation time can be set according to your own needs, and it will automatically shut down after the oxygen inhalation is completed.
Product Name
Portable Oxygen Concentrator
Oxygen Concentration
93%±3%
Outlet Pressure
≤70KPa
Alarm
power failure, low&high pressure,
low purity, error
Sound Level
≤55dB
Operation Voltage
AC220V±22V 50Hz±1Hz
Size (mm)
365*310*600
Oxygen Purity Alarm
oxygen purity is> 82%, blue lamp is on
oxygen purity is <82%, red lamp is on
Fuse
F5AL 250V
| | | | | |
| --- | --- | --- | --- | --- |
| Rated power (VA) | 500 | 500 | 800 | 800 |
| Net. Weight (kg) | 20 | 20 | 25 | 25 |
| Oxygen flow (L/min) | 0~3 | 0~5 | 0~8 | 0~10 |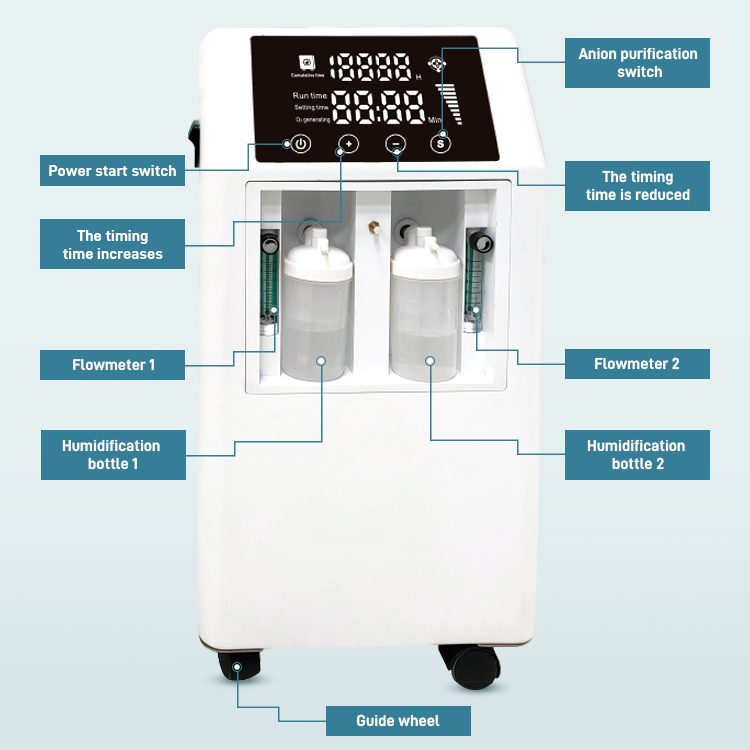 CAUTIONS
Care should be taken to prevent unit when using the device.
Please be closely monitored if children or disables people next to it when using.
When using, please bundle the long hair.
Please follow doctors advice before using .
Under certain conditions, the oxygen therapy device may be dangerous. Please consult your physicianbefore using the oxygen generator.
Do not use the device while you sleep.
Please do not block the air inlet of this device.
Do not use outdoors, do not use it with aerosol prod-
ucts, and do not use itin an oxygen-tight environment.
This compressor is oil-free and does not require the use of lubricants.
Don't disassemble to prevent electric shock. Please inform the dealer's qualified maintenance personnelin time.
Adhering to the principle of "first-class products, first-class service", Huachenyang (Shenzhen) Technology Co., Ltd. takes product quality as the foundation of enterprise development, specializes in the production of flocking swabs, throat swabs, oral swabs, nasal swabs, cervical swabs, sponge swabs, virus sampling tubes, virus preservation liquid, etc.
With more than 14 years of manufacturing experience in the field of medical consumables, HCY organizes production and manages sales in strict accordance with ISO9001 and ISO13485 and has certain advantages in the industry.
Any questions about this product? Send us a message!
We will reply to you via email in 24 hours