Disposable sterile foam swabs, customized sponge swabs (China factory)
Disposable sterile foam swabs, also called sponge swabs, are mainly used for covid-19 nucleic acid test sampling, antigen detection kit sampling, and for collecting various biological and environmental samples.
Sterile sponge sampling swab belongs to the medical device products, it is different from the general industrial products, in addition to the harsh requirements of the production environment, sterile sampling swab has to undergo various biochemical tests, and environmental testing, to ensure their safety. The production materials also have to go through performance verification, water absorption verification, sensitivity verification, etc. Only after the material test is qualified can it be put into production and use.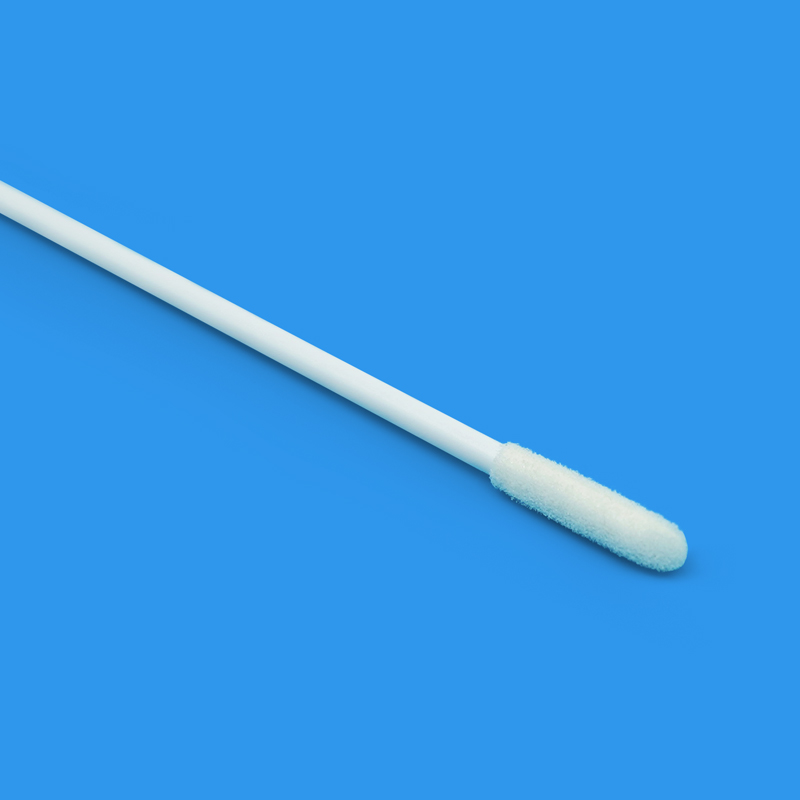 Foam Swab material: 100PPI medical-grade polyurethane sponge, foam sponge,
Sampling swab length: 8cm/15cm
Fracture point: 8cm from the tip (sponge swabs without fracture point are also available)
Sampling head length: 16mm
Sponge swab head thickness: 3.5mm
Type: Oropharyngeal swabs, nasal swabs, oral swabs, etc. (can be customized)
Qualified sampling sponge swab head sponge material needs to use 100PPI medical-grade polyester sponge, using medical water-based glue for bonding. Huachenyang disposable sponge swab's PS rod has irradiation resistance characteristics, not easy to yellow after irradiation sterilization with reagents. Sterile sponge swabs are manufactured using the ISO13485 quality process and YY0287 quality standard.
Parameters of disposable sterile sponge swab

Customized sterile foam swabs
Huachenyang (Shenzhen) Technology Co., Ltd. specializes in producing all kinds of medical consumables. From the classification of sampling swabs, we can produce various types of swabs such as round head, pointed head, columnar, conical, square head, etc. In terms of material, we also have various types of sponge swabs, flocked swabs, rayon swabs, etc. You can buy or customize it according to your needs.
Huachenyang has advanced production experience and manufacturing process, for many medical diagnostic customers to provide quality products and services, sponge head sampling swab is a necessary consumables for the medical-biological industry, for the diagnosis of special, Huachenyang chooses high-quality imported materials while having more than hundreds of sponge swab production equipment, to provide customers at home and abroad with quality products. Huachenyang is a manufacturer of sponge swabs in Shenzhen with a Class II sterile registration certificate and many products have obtained ISO13485, CE, FDA, NMPA, and other certifications.
Packaging: Individually packaged, automated sterile sponge swab packaging
Sterilization method: Gamma-ray sterilization treated
Packing: 5000pcs/ctn
Production capacity: 10 million / day
Applicable industries: Hospitals, third-party medical testing laboratories, genetic testing and diagnostic institutions
Material: PS+PP+ABS
Place of origin: Shenzhen, Guangdong, China
Quality of sterile foam swabs
Medical grade quality
Polyester sponge swab head with a good collection and release performance
A comfortable sponge sampling brush head reduces patient discomfort
Can be used dry or in conjunction with liquid media
Use of sponge swabs
Nasal swabs, pharyngeal swabs, and oral swabs to collect pharyngeal samples
For general sample collection for testing and screening
For pediatric, ophthalmic, veterinary care, and pharyngeal applications
As a sample sampling accessory in rapid diagnostic kits
Package specifications
1 stick/bag, 2 sticks/bag, 5 sticks/bag
10 sticks/bag, 50 sticks/bag, 50 sticks/box
100pcs/box, 1000pcs/case, 2000pcs/case
Output of virus transport medium: 1 million sets/day
Output of disposable sampling swab: 10 million/day
Production Address: 8F & 11F, Building 4, 128# Shangnan East Rd, Huangpu Community, Xinqiao St, Bao'an, Shenzhen, Guangdong, China
E-mail: info@huachenyang.com
Tel: 0755-27393226 / 0755-29605332 / +86 13802210808
Adhering to the principle of "first-class products, first-class service", Huachenyang (Shenzhen) Technology Co., Ltd. takes product quality as the foundation of enterprise development, specializes in the production of flocking swabs, throat swabs, oral swabs, nasal swabs, cervical swabs, sponge swabs, virus sampling tubes, virus preservation liquid, etc.
With more than 14 years of manufacturing experience in the field of medical consumables, HCY organizes production and manages sales in strict accordance with ISO9001 and ISO13485 and has certain advantages in the industry.