10-mix-1 Virus Transport Medium: Swabs & VTM from China Manufacturer
The 10-mix-1 virus transport medium is used for covid-19 virus detection by saving 10 individual sample swabs into a single virus sampling tube. The 10-mix-1 virus transport medium has become an effective tool for covid-19 PCR assays because it improves the efficiency of sampling and detection while reducing the cost of detection.
Specific Specifications for Virus Transport Media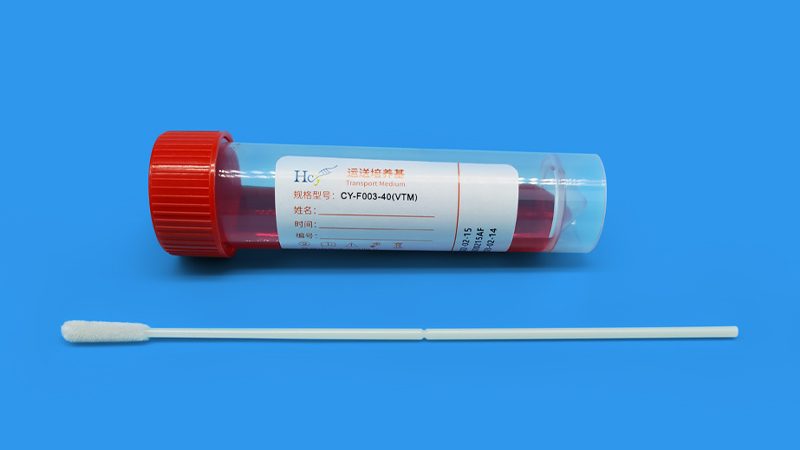 | Product Model | Number of Samples | Preservation Tube Specification | Virus Preservation Solution |
| --- | --- | --- | --- |
| CY-A-F005-10 | 1 | 10ml | 2ml |
| CY-A-F005-20 | 2 | 10ml | 3ml |
| CY-A-F005-30 | 5 | 10ml | 5ml |
| CY-A-F005-31 | 10 | 10ml | 6ml |
| CY-A-F005-41 | 20 | 20ml | 12ml |
Virus Transport Media
Note: The 10-person virus transport media comes with 10 disposable sampling swabs, and the 20-person one comes with 20 flocked swabs.
Technical requirements and storage conditions for virus transport media
Structural composition: Combination of the swab, transport medium (VTM)
Intended use: For the collection, transport, and storage of covid-19 nucleic acid samples, etc. The VTM kits can also be used to collect and preserve other biological samples.
Testing principle: Inactivated virus preservation solution can inactivate the virus by denaturing the protein of fresh clinical virus samples, thus eliminating secondary transmission of infection and ensuring the safety of transport and testing personnel.
Product shelf life: 12 months
Virus sampling tube storage conditions:
The product should be airtight, and avoid high temperature and direct light.
The product should be stored in a clean, dry and ventilated place
Storage temperature: 5 ℃ -35 ℃ between
Storage relative humidity: <85%RH
How to use the single-use virus sampling tube?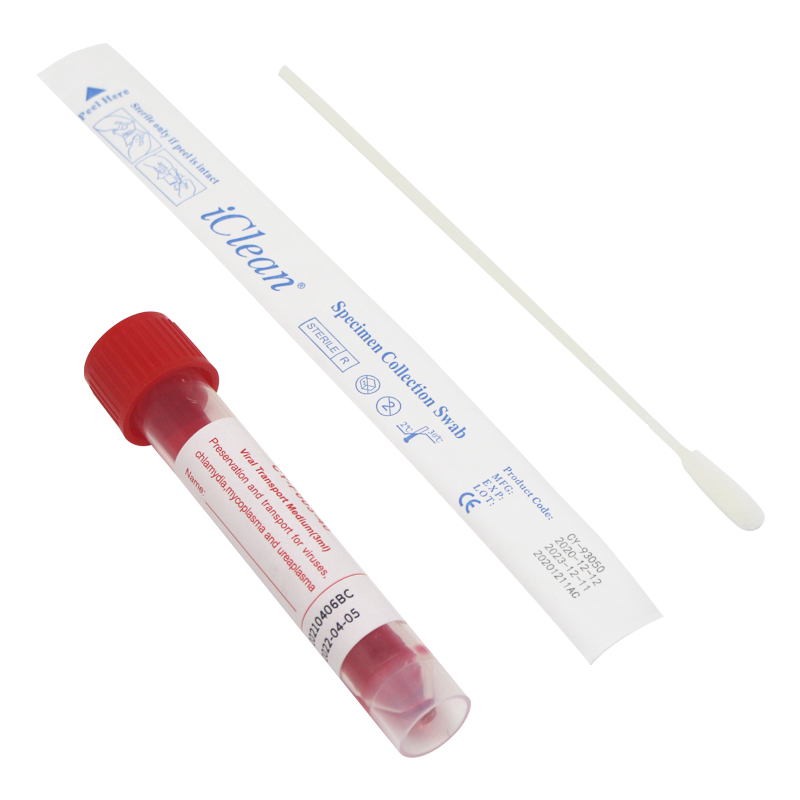 Label the sampling tube with the relevant information before performing the sampling.
Use a nasal swab or a nasopharyngeal swab for sampling.
After the sample is collected, quickly place the sampling swab into the sampling tube, break the swab from the breakpoint, and then tighten the cap of the virus transport medium.
Specific sampling methods are detailed as follows.
Nasopharyngeal Swabs/Nasal Swabs:
Insert the swab into the interior of the nasal cavity, stay and rub the inner wall of the nasal cavity for a moment and then slowly remove it, put the swab into the virus sampling tube and break it from the fracture point.
Oropharyngeal Swab:
Wipe the pharyngeal tonsils and posterior pharyngeal wall bilaterally with the sampling head, place the flocked pharyngeal swab in the nucleic acid collection tube, break the swab, and let the swab head deposit into the virus preservation solution.
Precautions for using virus transport media
After sample collection, the head of the -dispositive sampling swab should be completely immersed in the inverted preservation solution to maximize sample retention.
Nucleic acid samples must be sent for testing in a timely manner after collection.
It is prohibited to use products with broken packaging and past expiration date to prevent contamination.
This disposable virus transport medium is intended for in vitro diagnosis and should not be used for internal or external use in humans or animals If swallowed it can lead to serious incidents.
Virus Preservation Solution is irritating to the eyes and skin, so if you accidentally splash it in your eyes, you should rinse it with water immediately.
Huachenyang (Shenzhen) Technology Co., Ltd.
Huachenyang (Shenzhen) Technology Co., Ltd. is an innovative enterprise integrating R&D, production, and sales with a complete industrial chain, focusing on the R&D, production, and sales of medical consumables and medical equipment, with the competitive strength to develop in all aspects in domestic and international markets. Huachenyang has been focusing on the R&D and production of medical consumables, reagents and instruments for 14 years, with high-level automatic production lines, stable output and strict quality control, and its products are exported to customers in Europe, America, Asia, Australia and other continents. Meanwhile, Huachenyang has a secondary microbiology laboratory and cooperates with many world-leading diagnostic institutions and laboratories to develop and manufacture medical consumables and medical equipment with excellent quality.
Disposable virus transport media production: 1 million sets/day
Disposable sampling swab production: 10 million/day
Production Address: 8th and 11th floor of plant 4, No. 128 Shangnan East Road, Huangpu Community, Xinqiao Street, Baoan District, Shenzhen, China
E-mail: info@huachenyang.com
Tel: 0755-27393226 / 0755-29605332 / +86 13802210808
Adhering to the principle of "first-class products, first-class service", Huachenyang (Shenzhen) Technology Co., Ltd. takes product quality as the foundation of enterprise development, specializes in the production of flocking swabs, throat swabs, oral swabs, nasal swabs, cervical swabs, sponge swabs, virus sampling tubes, virus preservation liquid, etc.
With more than 14 years of manufacturing experience in the field of medical consumables, HCY organizes production and manages sales in strict accordance with ISO9001 and ISO13485 and has certain advantages in the industry.