Viral Transport Medium (Non-inactivated), VTM Kit
iClean® Non-inactivated Viral Transport Medium
The disposable viral transport medium is a commonly used virus sampling tube, which is composed of sampling swabs and virus preservation fluid and can be combined with subsequent PCR instruments for rapid detection of viral diseases.
Non-inactivated viral transport media contains a variety of solution components conducive to virus cell culture, which can ensure the integrity of the virus, and increase the survival time and stability of the virus.
Certificates: FDA 510K, CE, HC MDEL, MHRA Registration
The virus is a kind of non-cellular life form, it is made up of a nucleic acid molecule and protein or only by protein, the individual is a small, simple structure that only contains a kind of nucleic acid (DNA or RNA). Without a cellular structure, the virus cannot replicate itself, but instead inserts genes into the host cell and uses the latter's replication system to replicate the new virus.
Features of Non-Inactivated Virus Transport Medium
VTM tube allows the safe transfer of viruses, chlamydiae, and mycoplasma for further research and analytics.
The special formulation ensures the best possible recovery of the samples and the addition of antibiotics inhibits the contaminating growth of bacteria and fungi.
Bovine serum protein (BSA) acts as a protein stabilizer, but the protein coat of the virus forms a protective membrane, making it difficult to decompose and ensuring the integrity of the virus.
Hanks buffer creates a neutral environment, which helps increase the survival time and infection stability of the virus.
The disposable virus transport media tubes are made of polypropylene, with good sealing of the spiral mouth, suitable tightness, transparent tube body, and high visibility
This non-inactivated virus transport media is also equipped with flocked swabs to help users collect samples, there are a variety of cotton swab models for selection.
Storage:
Storage environment: dry, clean, ventilated
Storage temperature: 5℃~35℃
Relative humidity: <85% RH
Shelf life: 12 months
Applications of Viral Transport Medium
Non-inactivated viral transport medium tube is usually used for clinical influenza, avian influenza (such as H7N9), hand, foot, and mouth disease, measles, and other virus specimens and mycoplasma, ureaplasma, chlamydia, and other live specimens and transportation.
The VTM tube is suitable for several applications including classical cell culture methods, diagnostic testing, as well as molecular biology techniques (including PCR).
Common infectious diseases are usually RNA viruses, such as influenza virus, HIV virus, h1n1 virus, and so on. After the virus samples are collected, the swabs are stored and transported in a storage solution to maintain the activity of the virus samples and prolong the survival time of the virus in the samples.
Certificates of Viral Transport Media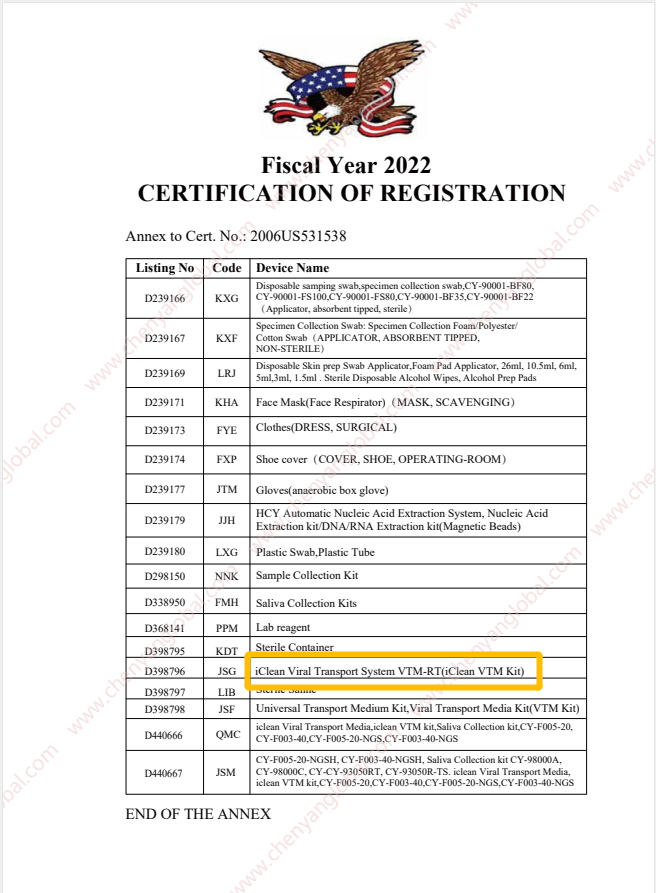 Specifications of Non-inactivated Viral Transport Medium
| Inactivated VTM | Non-inactivated VTM | Swabs | Tube specification | Virus preservation solution |
| --- | --- | --- | --- | --- |
| CY-A-F005-10 | CY-B-F005-10 | 1pc | 10 ml | 2 ml |
| CY-A-F005-20 | CY-B-F005-20 | 2pcs | 10 ml | 3 ml |
| CY-A-F005-30 | CY-B-F005-30 | 5pcs | 10 ml | 5 ml |
| CY-A-F005-31 | CY-B-F005-31 | 10pcs | 10 ml | 6 ml |
| CY-A-F005-41 | CY-B-F005-41 | 20pcs | 30 ml | 12 ml |
Inactivated Viral Transport Media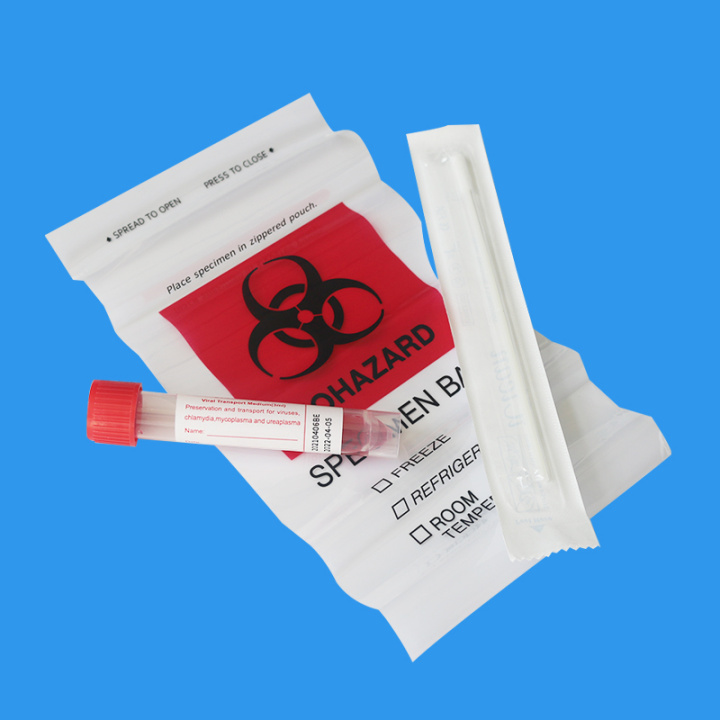 In addition, we also supply the inactivated virus transport medium which can make the sample lose the infectivity, which can improve the safety of the sample storage and transportation.
View the product
Adhering to the principle of "first-class products, first-class service", Huachenyang (Shenzhen) Technology Co., Ltd. takes product quality as the foundation of enterprise development, specializes in the production of flocking swabs, throat swabs, oral swabs, nasal swabs, cervical swabs, sponge swabs, virus sampling tubes, virus preservation liquid, etc.
With more than 14 years of manufacturing experience in the field of medical consumables, HCY organizes production and manages sales in strict accordance with ISO9001 and ISO13485 and has certain advantages in the industry.
You can request a quote or submit the order.
We will reply to you by email within 24 hours