Viral Transport Medium, Sample Collection Tube, Coronavirus Sampling Tube
With Polyester/Nylon Flocked Swab
VTM allows the safe transfer of viruses, chlamydiae, and mycoplasma for further research and analytics.
The special formulation ensures the best possible recovery of the samples and the addition of antibiotics inhibits the contaminating growth of bacteria and fungi.
This product is also equipped with flocked swabs to help users collect samples, there are a variety of cotton swab models for selection. The product is provided as bulk liquid media for use in further processes, e.g. filling into smaller sample tubes.
Certifications: CE/FDA/ISO/TGA
The Viral Transport Medium provides a pH-balanced environment and contains antibiotics to inhibit bacterial or fungal contamination. Microbeads inside the vial ensure more rapid sample dispersion and elution.
Hanks buffer creates a neutral environment, which helps increase the survival time and infection stability of the virus.
Product Description
Product Name
Coronavirus Sampling Tube
Viral Transport Medium
Certifications
CE/FDA/ISO/TGA
Medium Volume
Disponible Formats 3/5/10ml
Medium Option
Inactivated/Non-inactivated
Applicable Swab
CY-96000/CY-93050/CY-98000/CY-90003
Swab Material
Polyester/Nylon Flocked
Swab Usage
Nasopharyngeal/Oropharyngeal/Buccal Sampling
Sterilization
Gamma-ray sterilization treated
Packing
Carton Size: 76*51*32cm
Qty/CTN: 1200 sets
CBM: 0.124m³
N.W./G.W.: 18kg/19.5kg
Features of Flocked Swabs
Flocked Swabs-collect and release more secretions and cellular material than traditional swab
Sample elutes instantaneously into medium
Less QNS rejection with DFA+
Ergonomic, anatomic and quantitative
Comparable results with nasal washes and aspirates+
Cost-effective and multiple test
*Culture-all viruses, chlamydia, mycoplasma and ureaplasma
Enzyme Immuno Assays (EIA)
PCR
Nucleic acid amplification assays including chlamydia trachoma tis and neisseria gonorrhoeae (Ct/Ng)
NOTE:
It allows specimens to be stored at room temperature for 30 days without any change.
Regular & mini tube available in 3ml medium fill volumes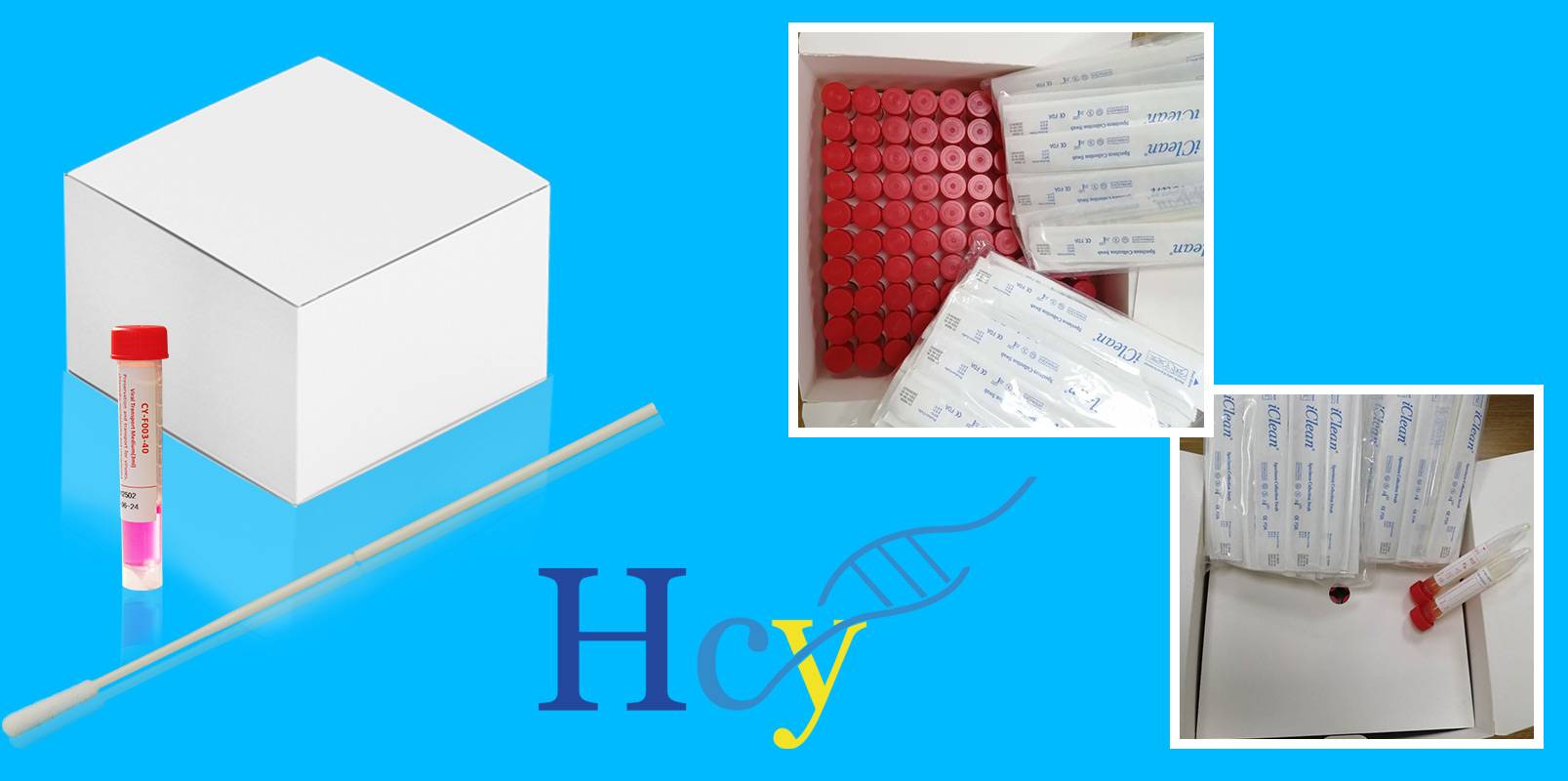 Adhering to the principle of "first-class products, first-class service", Huachenyang (Shenzhen) Technology Co., Ltd. takes product quality as the foundation of enterprise development, specializes in the production of flocking swabs, throat swabs, oral swabs, nasal swabs, cervical swabs, sponge swabs, virus sampling tubes, virus preservation liquid, etc.
With more than 14 years of manufacturing experience in the field of medical consumables, HCY organizes production and manages sales in strict accordance with ISO9001 and ISO13485 and has certain advantages in the industry.
Any questions about this product? Send us a message!
We will reply to you via email in 24 hours