Differences between H1N1 influenza & norovirus & Covid-19, which are highly prevalent?
If you experience symptoms such as fever and fatigue, it may be caused by H1N1 influenza, and you can go to the hospital for nucleic acid testing, which can also detect the H1N1 virus. If you have diarrhea, it may be a norovirus infection.
The symptoms of H1N1 influenza, norovirus, and COVID-19 all include fever. How can we distinguish between them, and what preventive measures.
What is H1N1 Influenza and Noravirus?
H1N1 Influenza:
Refers to the novel H1N1 influenza virus, which is an acute respiratory infectious disease. The general population is susceptible to the H1N1 influenza virus and it can be transmitted from person to person.
Norovirus:
One of the common pathogens causing acute gastroenteritis, it is characterized by a low infectious dose, long excretion time, and strong resistance to the external environment. Children mainly experience vomiting, while adults are more likely to experience diarrhea, with stool being watery or resembling water.
Different symptoms of H1N1 influenza & norovirus & COVID-19
H1N1 Influenza:
Symptoms: fever, cough, sore throat, headache, body aches, fatigue, and sometimes vomiting and diarrhea
Differences from COVID-19: H1N1 influenza tends to cause more gastrointestinal symptoms, such as vomiting and diarrhea, and less shortness of breath than COVID-19.
Norovirus:
Symptoms: nausea, vomiting, diarrhea, stomach cramps, and sometimes fever, headache, and body aches
Differences from COVID-19: Norovirus primarily affects the gastrointestinal system and rarely causes respiratory symptoms like cough or shortness of breath.
COVID-19:
Symptoms: fever, cough, shortness of breath, fatigue, muscle or body aches, headache, loss of taste or smell, sore throat, congestion or runny nose, and sometimes gastrointestinal symptoms like nausea, vomiting, or diarrhea.
Differences from H1N1 influenza and norovirus: COVID-19 can cause more severe respiratory symptoms, such as shortness of breath, and has been associated with more severe illness, hospitalization, and death in certain populations, especially older adults and those with underlying medical conditions.
The probability of co-infection with H1N1 influenza & COVID-19 is relatively low.
The chances of co-infection with H1N1 influenza and COVID-19 are very low, and even if it does occur, the incidence of critical symptoms is not common.For non-high-risk groups, even if they are infected with both viruses at the same time, a strong immune system can reduce the risk of critical illness. Whether or not a person becomes critically ill is related to their individual physical constitution.
How long do antibodies last after recovery from infection?
H1N1 influenza: the antibodies produced are generally effective for about six months.
COVID-19: the acquired protection generally lasts for 3 to 6 months.
Norovirus: the antibodies produced do not have a clear protective effect and recurrent infections are very likely to occur.
Huachenyang Disposable Sampling Kits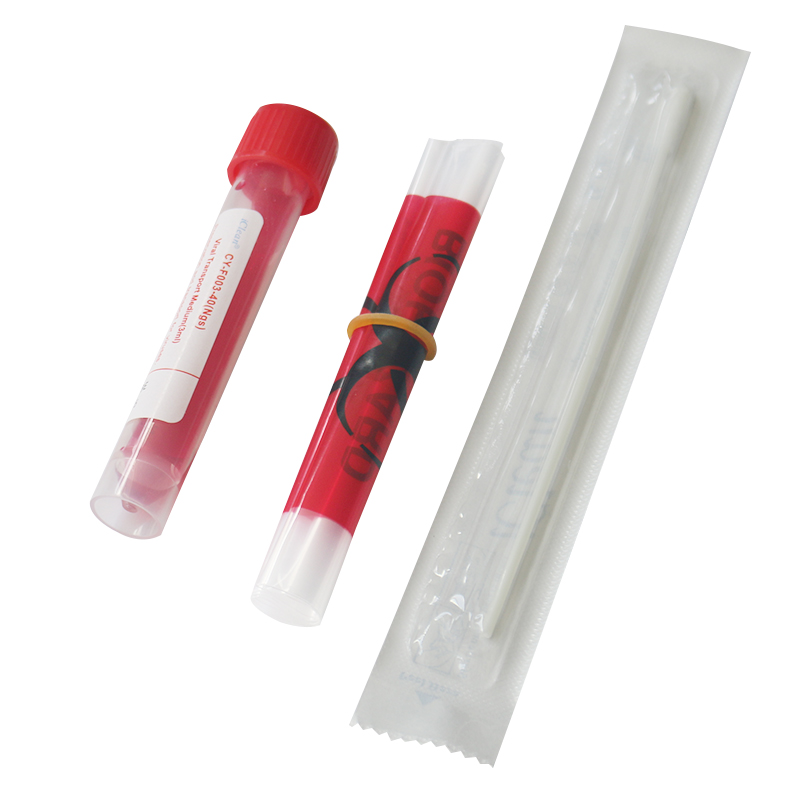 The disposable sampling kit is suitable for various types of testing projects such as respiratory multiple screening, norovirus, COVID-19, HPV, etc.
Conform to GMP standards and are produced in a 100,000-grade clean room with no fluorescent substances or chemical residues.
The flocked swabs greatly increase the efficiency of sample collection and release, and improve testing accuracy.
The kits have a Class II medical device registration certificate, as well as certifications from the FDA 510(k), CE, MHRA, MDEL, TGA, and TFDA.
"HCY, Health care for you" is our forever mission. We dedicate to offering safe & reliable products and medical services with our global creditable partners. HCY has already supplied to WHO, MAYO clinic, MGI, DDC, Yale University, Qorvo, Quanterix, Thomas Scientific, SD biosensor, Cardinal Health, Cleveland Clinic, Mars Petcare & LumiraDx, etc. in the past years.